I. Case Overview
In recent years, with the gradual aging of buildings in the 1980s and 1990s, housing collapsed in many areas. For example, Hangzhou, Guizhou and other places have had this kind of scene. How to prevent it from happening and avoid the collapse of buildings A hot topic. At present, the use of manual methods for monitoring of dilapidated houses is still mainly used in various places, and the staff in communities and streets often lack professional skills or necessary equipment. However, hiring a professional inspection agency to conduct regular inspections not only has a high measurement cost, but also has low timeliness and discontinuous data. If the accident of the collapse of a dangerous old house occurs during the interval of manual periodic inspections or when the owner is asleep, the consequences will be disastrous.
In order to achieve high-precision and real-time monitoring services for building safety, a Zhejiang company construction engineering testing company hopes to build its own house safety monitoring system and management platform, which integrates wireless data transmission, positioning, Internet of Things, big data, cloud Services and other technologies, planning professional sensor equipment monitoring solutions.
As an industrial Internet of Things service provider integrating R & D and intelligent manufacturing capabilities in the Yangtze River Delta, MANTOO uses wireless data transmission, positioning, Internet of Things, big data, cloud services and other technologies in conjunction with integrated sensors, MT-R4104G intelligent measurement and control terminal has developed an application case for building (housing) safety implementation monitoring and warning system that integrates real-time safety monitoring, intelligent analysis, and safety warning functions. Realize 7 × 24 hours of millimeter-level automatic monitoring, help monitors understand the building status in detail, and effectively achieve safety warning.
II. System architecture diagram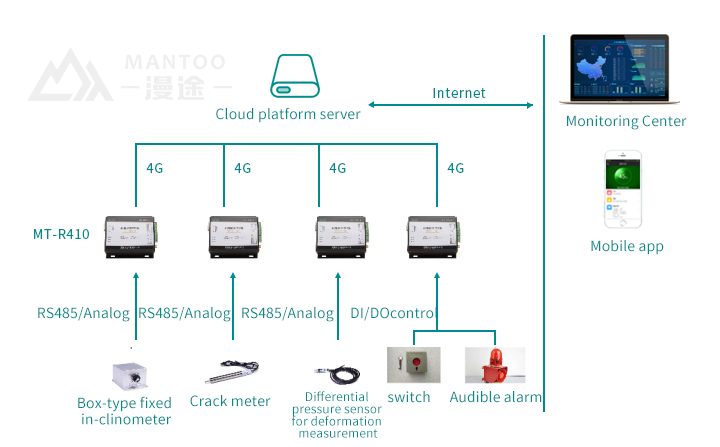 Ⅲ. System functions
-Real-time monitoring: Real-time monitoring of the safety status of building inclination, displacement, settlement, cracks, through automated monitoring platform to help customer management units to achieve information security monitoring and process management, no longer affected by the weather.
-Classified multiple alarms: Once an early warning occurs at any location on the scene, different alarm methods are adopted according to the early warning level, and the relevant responsible units are used to take emergency plan measures in a timely manner to evacuate the crowd and move in time to reduce the occurrence of accidents.
-Structure trend analysis: Through the quantitative safety evaluation of the structure of the house and the safety analysis of the monitoring index data, the trend analysis of structural stability can be realized.
-Multi-project management: Users can monitor the construction status of multiple projects on site at the same time, which makes management more convenient.
-Data cockpit: Users can view real-time data and historical data in the data monitoring center.
Ⅳ. Software system interface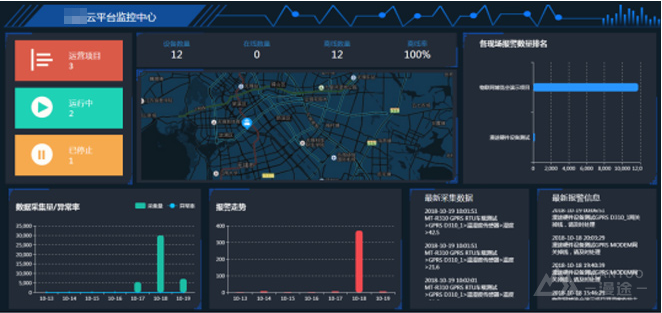 Platform monitoring data board
Management background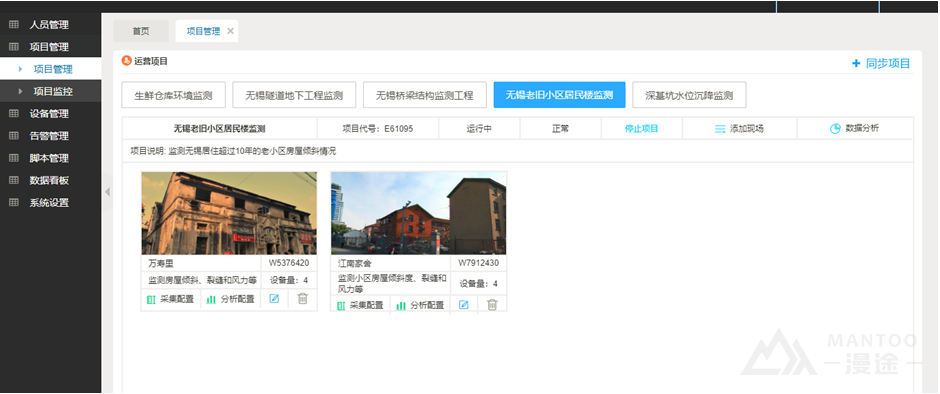 Project management interface diagram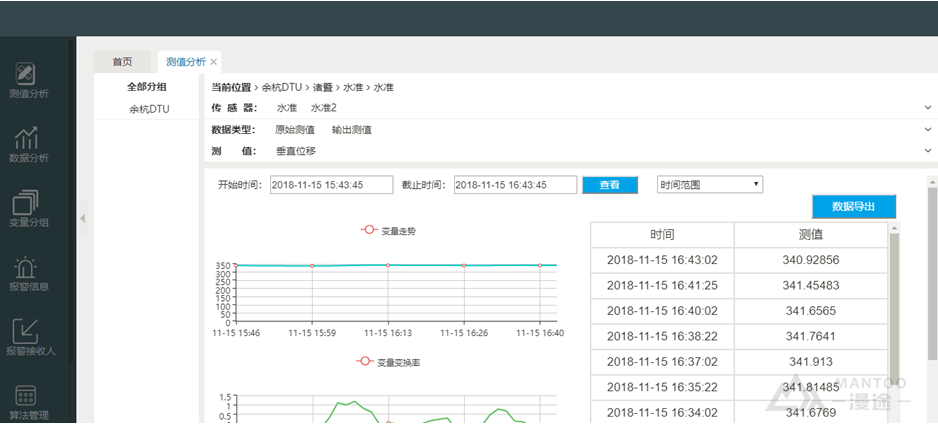 Data analysis section
Ⅴ. Introduction to hardware products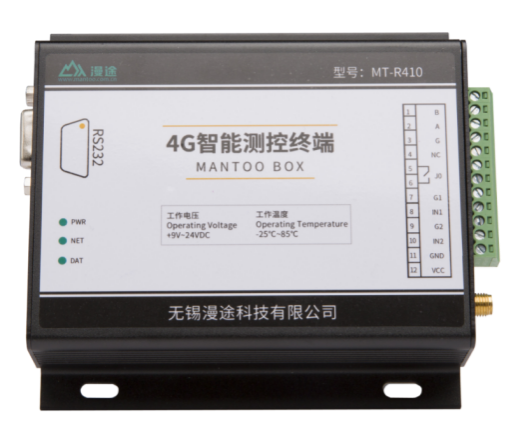 MT-R410 is a high-performance measurement and control device that integrates RS232 / RS485 interface, digital input, relay output and wireless data communication. It supports RS485 communication and is an intelligent terminal device for wireless measurement and control. The data storage, period and reporting period can be adjusted according to the requirements of the user environment. In the system, it is mainly used for data acquisition and upload, input and output control buttons, and alarm lights.
Ⅵ. On-site application photos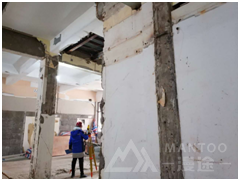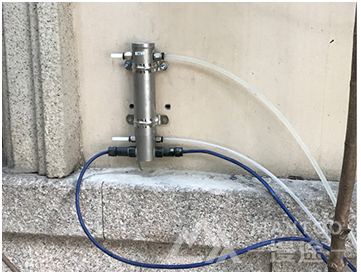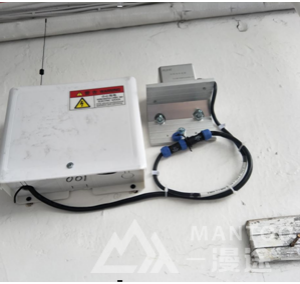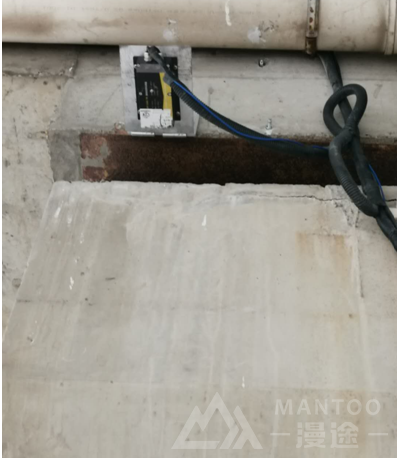 On-site sensor installation and data collection
Ⅶ. Customer evaluation
The house safety monitoring system created by MANTOO can find hidden safety hazards of the house at the first time, and obtain the settlement slope of the floor through sensors, which effectively avoids the rapid deterioration of the parameters caused by the long detection period. The biggest advantage of the function of the Internet of Things solution is that the monitoring data is made more intensive, and the obtained data and curves also play a vital role in later research.